PHILADELPHIA IS DIVERTING DELINQUENT STUDENTS


by Dave Marsden



It was 2013, and Kevin Bethel, Deputy Commissioner of Patrol Operations for the Philadelphia, Pa., Police Department for the past 2 years, had a concern. Officers under his command were responsible for arresting 1,600 public school students a year, and he knew it was creating great trauma in the lives of these young persons. As a member of the Philadelphia Youth Violence Prevention Coalition, he had felt challenged by Police Commissioner Charles Ramsey, Juvenile Court Administrative Judge Kevin Dougherty, and the Juvenile Detention Alternatives Initiative that was part of Philadelphia's violence-reduction strategy to think of new ways to reduce violence and achieve better outcomes for students.

Bethel was responsible for the 84 sworn officers and 35 school-based officers (unsworn and not School Resource Officers) who support the school district, and who were taking these 1,600 students through a full-blown booking process at Police headquarters that was time consuming and often counterproductive.

"There had to be a better way to serve young people and preserve public safety at the same time," he thought to himself. He wanted to know, Bethel now recalls, whether Philadelphia "could mitigate these issues related to school arrests through social services and not through the juvenile justice system?" He came up with an idea.

From Offense to Diversion, Without Arrest
What if the students who were involved in minor offenses such as marijuana possession, misdemeanor weapons possession, disorderly conduct, and so on could be diverted to services without an arrest? They would probably be diverted anyway, so this would save time and spare young people the trauma of arrest.

As with most big ideas, the devil is in the details. So Bethel began to work with Philadelphia's school district, the Department of Human Services (DHS), the District Attorney's office, the Defense Attorney's Association, and the juvenile court to devise a program that would accomplish the vision he had in mind for the effort.

Aiming to Cut School-Based Arrests in Half
In July 2014, Philadelphia applied to the Office of Juvenile Justice and Delinquency Prevention for a federal grant and, in October, was awarded $600,000 to develop and operate a delinquency diversion program. Bethel's team examined data conducted in Philadelphia by the International Association of Chiefs of Police and the MacArthur Foundation, and a goal of a 50 percent reduction in school-based arrests was established.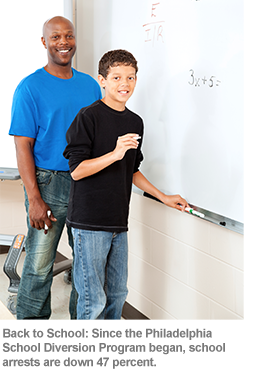 Philadelphia now has a new way of dealing with offenders in its schools, and, at press time, arrests are down 47 percent after a mere 3 months of the program. The Philadelphia School Delinquency Diversion Program (DDP) is well under way and making an impact.

Eligibility for Diversion Evaluated at Intake
In serious cases of misconduct in schools, the process of arrest remains largely the same. But all cases are now funneled to the DDP intake office, staffed by two sworn police officers and a DHS staff member, through a telephone call. Youngsters who have committed a delinquent act receive a telephone referral to the intake office, where their eligibility for diversion is evaluated based on the offense, their prior record, and whether they are on probation supervision.

Eligible youths are released, and the diversion process begins. A letter is sent to the child's home, and a DHS diversion social worker conducts a home visit. Risk factors such as alienation, rebelliousness, association with peers who engage in delinquency, bullying behavior, and alcohol or drug abuse are considered. The worker also explores with the child and his or her family any physical, psychological, emotional, familial, social, and educational issues that may exist within the home and then develops an intervention plan to address them. After determining the needs of the child, the social worker makes a referral to one of six community-based organizations under contract to the city of Philadelphia that can carry out the service delivery outlined by the worker.

Project Addresses Disproportionate Minority Contact
Too often in the past, school principals used the juvenile justice system to deal with school discipline issues. But in Philadelphia now, the difference between discipline and delinquency can be discerned, and authorities can take action that is in the best interest of the child and of public and school safety.

An equally important feature of this program is that it created a neutral evaluation process that will address the overrepresentation of African American students in the school arrest numbers. African American students accounted for 80 percent of arrests in schools while constituting only 58 percent of the school population. Previous studies in Philadelphia have shown that "there is no evidence to suggest that African American students demonstrate higher rates of disruption that would warrant higher rates of discipline, nor is this overrepresentation explained entirely by poverty."1

School-to-Prison Pipeline Interrupted
Naomi Goldstein, Associate Professor of Psychology at Drexel University in Philadelphia, was working with Deputy Commissioner Bethel on the Disproportionate Minority Subcommittee of the Crime and Delinquency Commission. Before the grant was even awarded, Goldstein had agreed to conduct an evaluation as a volunteer, beginning her work in May 2014. By starting early, Goldstein was able to survey police officers and others and begin to accumulate pertinent data to begin the process and get the program off to a good start.

"This program addresses the school-to-prison pipeline and keeps kids out of the juvenile justice system," she says. "It addresses the underlying issues that impact these youngsters behavior." Goldstein is hoping this evaluation will help determine how Philadelphia can get the best outcomes possible for these young people.

A Best Practice All Forum Cities Should Examine
The DDP is a major step taken by the city of Philadelphia to reform service delivery and public safety operations that is in line with accepted best practice to keep young people from penetrating the juvenile justice system further than necessary. The program provides them with interventions that will lead to better outcomes. This is something that all Forum cities should take a close look at for similar applications in their violence-reduction efforts.