A YOUNG PHILADELPHIA FOUNDATION HELPS REDUCE YOUTH VIOLENCE


by Marla Fogelman



Since Philadelphia, Pa.'s Stoneleigh Foundation was established in 2006, its Fellows have included some persons experienced in public policy, some who can do cross-systems work, some who have worked in academic settings professionally, and some recent college graduates who qualify for Emerging Leader Fellowships. The characteristic all Fellowship recipients share, according to Stoneleigh Executive Director Ronnie Bloom, is that they have "something that they want to tackle."

That kind of ambition is imperative at an institution whose work seems to respond every day to what Martin Luther King Jr. once called life's most persistent and important question: "What are you doing for others?"

Founders Turned Their Home Into Foundation Site
As Philadelphia philanthropic bodies go, Stoneleigh is a relatively new kid on the block. But the idea for the foundation began years earlier, when longtime Philadelphia philanthropists John C. and Chara Haas sat at their kitchen table with family members and friends to talk about how to improve the outcomes of their city's most vulnerable children and youth.

Soon, they were also discussing how they could use the Haases' personal estate in nearby Villanova as a reflection of their values. They wanted to connect both their home and their values to a cause that had been central to them their whole lives.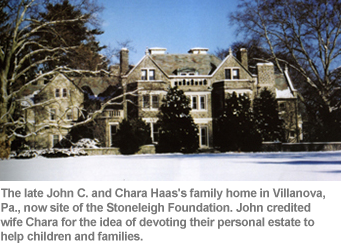 A Partnership Begins
Stoneleigh's mission couldn't have begun at a much more propitious time for Philadelphia, a city racked for generations by continual shootings and homicides, in which a majority of victims have been African American males, ages 18–34. For example, in 2009, youth violence in the city was reported to have reached epidemic proportions.1

But it wasn't until 2012 that the foundation became more directly involved with youth violence prevention. Philly had been selected as 1 of the 10 cities to participate in the National Forum on Youth Violence Prevention, and began to work on a 5-year goal of reducing youth violence by 25 percent.2

After Philadelphia Mayor Michael A. Nutter created the Youth Violence Prevention Collaborative (YVPC) to pull together stakeholders from the business, academic, nonprofit, philanthropic, faith-based, and public sectors, he turned to Stoneleigh to fund a coordinator position for this multidisciplinary collaborative. He also had a candidate in mind: Richard Greenwald, an expert in workforce development and prisoner reentry, with deep experience leading nonprofit social services organizations.3

According to Director Bloom, the mayor's request for help with youth violence prevention also came at a propitious time for Stoneleigh.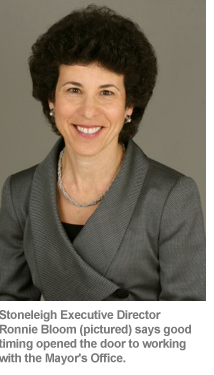 "When the mayor came to us," she explains, "the foundation wanted to do something on this issue. And with Sandy Hook [the Connecticut elementary school victimized by a mass shooting in December 2012] and everything else going on, it made sense. So it was a win–win."

Bloom adds that the issue also represented "something near and dear to our founders' hearts."

In March 2012, after Stoneleigh agreed to fund a 3-year Fellowship for the position, Greenwald began serving as executive director and assistant to the mayor for YVPC. Since then, he has been working at fostering collaborations across systems, agencies, and organizations, with particular attention to one of the city's poorest neighborhoods: the high-crime 22nd Police District in northern Philadelphia.

"We've come a long way in a year and 9 months," Greenwald says, noting that crime rates have declined citywide. He also describes how, during the most recent Martin Luther King Jr. Day community cleanup at the Faith Temple church in the 22nd district, the pastor told him that residents were feeling both safer and more optimistic.

"Terrible things still happen," Greenwald says, citing a recent triple shooting in the depressed neighborhood, "but people feel supported."

He also points to the development of the community gardens across from the Strawberry Mansion High School as a metaphor for change in the 22nd district. A place once filled with trash, bullet casings, and danger has been transformed, under the aegis of the mayor and with support from nearby Temple University, into an area that literally blooms: with flowers, vegetables, families, potential, and hope.

Greenwald says that with Stoneleigh's lead, the YVPC has developed a group of private funders, whose help should make systems change sustainable across administrations.

A Model for Other Forum Cities?
Ronnie Bloom says that Stoneleigh is in the process of reflecting about what works, and about what changes may be made in the future.

Could the Stoneleigh partnership with the city of Philadelphia serve as a model for other Forum cities? Bloom says that one of the foundation's goals is to test that proposition, "given that we're of moderate size and resources and that we believe in individuals as change agents." Or, as she puts it, "do we push above our weight class?"

"The big test for us is to embed the work as quickly as possible," Bloom says.

Embedding the work is also what Greenwald is continuing to do, for the remainder of his time as a Fellow. For the coming year, he intends to concentrate on such issues as job placement for older youth, shooting-response protocol, and trauma-informed programs. And the YVPC will continue to pay particular attention to the 22nd district. "We're trying to be both strategic and assertive," says Greenwald.

But no matter whether and how Greenwald continues in this position after his Fellowship is over, he has nothing but the highest praise for Stoneleigh and its support of his work with youth violence prevention.

As he says, "It's an example of what a public–private partnership can be."