TRUST IS EVERYTHING
by Matthew Malamud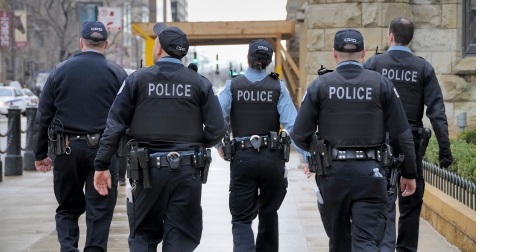 In the 1991 film Boyz n the Hood, which chronicles the lives of three young black men in violent South Los Angeles, Calif., Tre, one of the boys, experiences a home invasion. After his father wards off the intruder, they wait an hour for the police to respond to their 911 call. When the cops finally show, one of them has a testy exchange with Tre's father. At one point, the officer asks him if something is wrong. Tre's father retorts: "Yeah. It's just too bad you don't know what it is."

What he was alluding to was the Los Angeles Police Department's (LAPD's) long, pervasive history of misconduct and abuse, particularly toward minorities, that eventually led the U.S. Department of Justice in 2000 to compel reforms through a consent decree with the city. Among other things, the decree included community-policing measures to mitigate the distrust and hostility Angelinos had toward police.

Today's L.A. police are nothing like those depicted in the movie. A 2009 Harvard University study of the effects of the consent decree found considerable improvement on a host of measures, including amelioration of the seemingly intractable distrust Angelinos harbored toward police. In that year, 83 percent of the public expressed confidence in the LAPD.

The same study showed that African Americans, despite having a more favorable view of the police, trailed other racial and ethnic groups in their assessment of the police. Nevertheless, the change was palpable. Police trust in L.A.'s African American community went from just over 20 percent to 70 percent, according to Susan Lee, national director of the nonprofit Advancement Project's Urban Peace program. The program's evidence-based Community Safety Partnership initiative works with the city of Los Angeles and the police department to reduce and prevent violent crime in South L.A.'s Watts neighborhood.

Things have improved in Los Angeles to the extent that the LAPD is no longer under the consent decree. But it has not slowed down efforts to gain the community's confidence. Just this month, for example, the LAPD began training officers department-wide in enhanced techniques, including how to interact with people who have mental illness and deescalate potentially violent encounters.

Los Angeles Is an Outlier
Just a little more than half of all Americans (52 percent) have a "great deal" or "quite a lot" of confidence in the police—a 22-year low—according to an annual nationwide Gallup poll that shows confidence was at its apex of 64 percent in 2004. The chasm between whites' and minorities' attitudes is striking: 57 percent of white people and just 30 percent of black people expressed confidence in the police.

Recent events involving police, such as the deaths of Michael Brown, Jr. in Ferguson, Mo., Freddie Gray in Baltimore, Md., Eric Garner in New York City, and Walter Scott in North Charleston, S.C., have spurred a national conversation about the importance of community trust when it comes to policing.

"Trust is everything," said Connie Rice, co-founder of the Advancement Project. Through what she called "relationship based policing," the police unit involved with the Advancement Project's Community Safety Partnership has been able to effect a more than 50 percent reduction in Watts's violent crime.




57 percent of white people and just 30 percent of black people expressed confidence in the police.




According to Rice, that kind of change was only possible because the unit gained the trust of the community. "This community was at war with the police" she said. "Now, they are revered cops, they are loved cops, and they have the best crime-solving rate in all of Los Angeles."

Relationship-based policing involves building and maintaining the community's trust and gaining its support to reduce and prevent crime through participation in nonenforcement activities and the practice of procedural justice—also known as procedural fairness or constitutional policing, in which police behave in fair and unbiased ways during encounters with citizens. It takes a problem-solving approach to community safety.

To be effective, relationship-based policing requires the long-term deployment of officers to a geographic area. Those officers need special training and professional development in relationship-based policing. And they should be compensated as an incentive and reward for positive policing behavior.

That behavior, which pays dividends in gaining the community's trust, includes activities such as escorting kids in gang-ridden areas to school, helping the community get a farmers market, or hosting a children's field trip to the beach.

Rice said it took as much training of the community as it did for the cops. "It's very hard," she admitted. "I had to go to grandmothers and ask them to do something I didn't know whether I could do myself—I asked them to work with the same police who killed their children and grandchildren."

Research confirms what Rice knows to be true: When law enforcement engages in efforts such as relationship-based policing, which increases the public's compliance, cooperation, and satisfaction with police, a corresponding reduction in repeat offenses and revictimization can occur.

21st Century Policing
Spurred by the deaths of Michael Brown and others, President Obama formed the President's Task Force on 21st Century Policing in December 2014. The 11-member task force, which included Rice, was charged with recommending ways in which police could reduce crime while improving public trust. They met several times earlier this year to hear from expert and lay witnesses about the challenges, successes, and opportunities that face the nation's 18,000 law enforcement agencies.

In May 2015, the task force issued its final report. Included in the many recommendations for law enforcement agencies were adopting procedural justice as the guiding principle for internal and external policies and practices and initiating positive activities unrelated to enforcement to promote public trust.

Wesley Skogan, a professor of political science at Northwestern University in Chicago and a crime and policing expert who testified before the task force, called the recommendations sensible but noted their adoption would take considerable effort and resources. "Many of them run counter to police culture," said Skogan.

Although science does not support the standard model of policing, jurisdictions cling to it because it is so ingrained, partly because it is measurable, according to Skogan, who has studied Chicago's decades-old community policing efforts—the Chicago Alternative Policing Strategy, or CAPS—which coincided with a marked decrease in crime. "Ninety-nine percent of the statistics in Chicago's CompStat is crimes and arrests," he said. "They know that other things matter, but they can't figure out how to effectively measure them and incorporate them in their activities."

Skogan said procedural justice holds a lot of promise, but he added there is "no legal or constitutional requirement that police be nice to people. That is hard work that requires a lot of training."

It All Comes Down to Resources
For years, CAPS was the talk of the town in Chicago. These days, said Skogan, it suffers from a lack of resources, energy, and interest. That includes the interest of city hall, which is dealing with a pension crisis.

Skogan thinks of trust in practical terms. "Yes, the police need to rely on the community to report crime," he said. "But they also need the support of voters and taxpayers if they are going to have the resources to do their jobs. They need that political and economic support."

Rice agrees. "It's critical that there be funding" for programs like Community Safety Partnership. "A lot of other cities talk about community policing, but they don't fund it." She said an evidence-based strategy like relationship-based policing is four times more expensive than standard policing.

Cities and law enforcement agencies that want to institute community policing strategies may be able to get assistance from the federal government. DOJ's Office of Community Oriented Policing Services offers grants and funding, technical assistance, and training. Its Web site also contains an ever-growing repository of publications and other media on evidence-based strategies.

"Resources are really important," said Skogan. "We weren't having this discussion before the 2007 recession."