SEATTLE'S ALIVE & FREE HELPS YOUTH RECOVER FROM VIOLENCE
by Marla Fogelman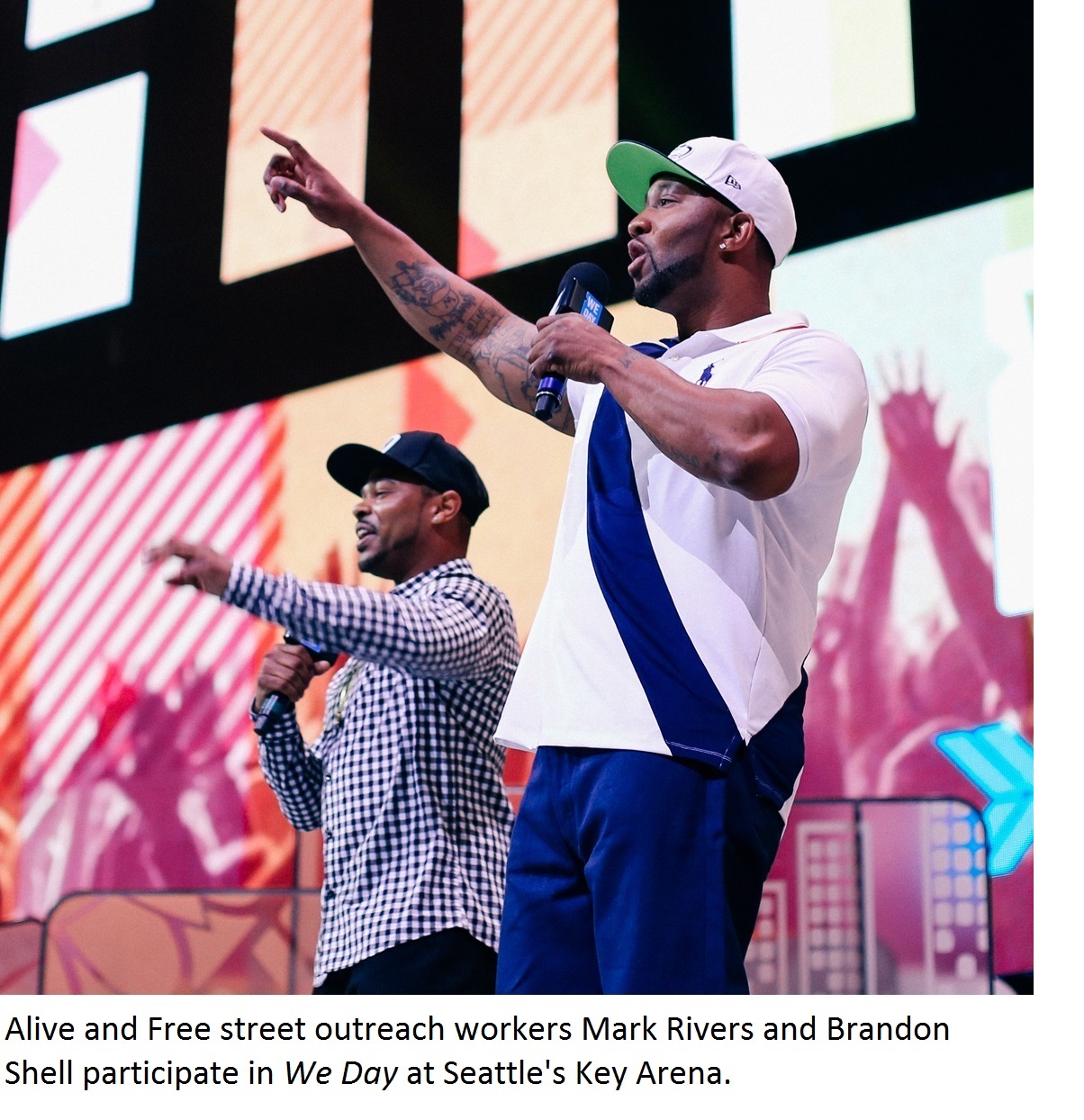 Members of Seattle's YMCA Alive & Free program are passionate about their community, and their determination to get at-risk and gang-involved youth the services they need has inspired some of the city's most beloved icons. Just last September, the 13-person street outreach team donned green aprons to fill the mugs of Starbucks lovers along with Coach Pete Carroll and members of the famed Seattle Seahawks. Together, they raised money to bring programs and services to youth who are most at risk for violence.

The mission of the Y's Alive & Free street outreach program—funded in the City of Seattle through the Seattle Youth Violence Prevention Initiative—is to help young people make positive changes by connecting them with relevant services and opportunities. Seattle's Alive & Free program is a member of the national Alive & Free Movement™, which "identifies violence as a public health issue." The program uses street outreach workers to teach youth how to stay free from the "disease" of violence.

The street outreach workers are men and women from the communities they serve who reflect the backgrounds and experiences of the young people they help. Team members are recruited through multiple channels: community connections, community workers, word of mouth, active outreach workers, and the YMCA's Human Resources Department.

Outreach workers have "personal experience overcoming challenges and with the 'streets,'" said Jovi Catena, program director for Alive & Free. Experience on the street equips these workers with the "special skill set" needed to help the especially vulnerable youth who may be distrustful of traditional services or service providers.

"They are a dynamic team," said Catena. "One thing I love about this team is that they work really hard to be the best."

Catena said outreach workers receive extensive and ongoing professional development and highly tailored training in ethics, boundaries, de-escalation and mediation, motivational interviewing, and connecting youth with opportunities. Workers who have had experience with the criminal justice system are also uniquely equipped to talk to youth about making the "best use of incarceration," if such a situation arises. This may include encouraging them to continue their education and take advantage of job skills training and other resources available to inmates.

Warrant Prevention Program
One of the services provided by Alive & Free is the warrant prevention program, which aims to keep kids who are at highest risk for warrants based on their race, gender, and geographic location from receiving warrants for failing to appear in court. Through this program, which is being evaluated by the University of Washington as part of King County Juvenile Court's initiative to reduce disproportionate minority confinement, Alive & Free workers help youths get to court and support them throughout the adjudication process. The intervention gives young people a chance to avoid time at a detention center, where lifelong engagement with the justice system may begin.

Seattle Youth Violence Prevention Initiative
The Seattle Youth Violence Prevention Initiative (SYVPI) was established in 2009 after five young people were shot and killed by other youth. The surge in youth-on-youth homicides led to what SYVPI Director Mariko Lockhart described as a "turning point for our community."

Then-Mayor Gregory J. Nickels pulled together community members and other stakeholders to develop the initiative, looking for a collaborative approach that used street outreach as a model for engagement. After researching related efforts throughout the country, SYVPI borrowed elements from many models, including those used in Chicago, Los Angeles, and Washington, D.C.

In addition to the support Seattle YMCA's Alive & Free receives through SYVPI, its collaboration with a unique collective funding effort brings the South King County cities of Auburn, Kent, Renton, and Tukwila together through Seahawks Coach Pete Carroll's organization, A Better Seattle.

Maintaining Services and Providing Experiences
Seattle is experiencing a boom in population growth, which disproportionately affects individuals living in poverty. As a result, many at-risk youth have been displaced and relocated to cities outside Seattle, particularly in South King County, where gang activity has increased.

But Alive & Free is there for these kids, providing services they had received in their former Seattle neighborhoods. As Catena said, "Our program follows youth as they move through the county. Youth violence isn't confined by city boundaries."

In addition to supporting kids wherever they go and connecting them with services such as case management, employment, mentoring, and aggression replacement therapy, outreach workers strive to expose at-risk youth to the wider world. This might entail a visit to a college campus, a hike, or even a Seahawks game.

Support, Collaboration, and Partnership
Outreach workers meet weekly with supervisors to discuss service barriers for caseload youth. They also meet weekly as a team to talk about community violence and intervention strategies. Collaboration is a top priority for both Alive & Free and SYVPI. "What strikes many people from other parts of the country about Seattle's approach to violence prevention is our collaboration across multiple sectors," said Lockhart.

Alive & Free has built relationships with King County Juvenile Court, police departments in Seattle and South King County, and A Better Seattle, which funds outreach efforts in South King County cities where resources are limited, and connects corporate partners like Starbucks to the work of Alive & Free.

What's Next
Looking ahead, Catena said Alive & Free has been "asked to grow" and that "we're trying to manage growth strategically." She said it was important for the program to first be stabilized.

In some ways, though, Catena wants the outreach program to stay small. The best outcome, she said, would be reducing youth violence to a level where "fewer outreach workers [are needed] and more young people get to college."